And now it's over until next year!
Christmas has come and gone in the blink of an eye, as usual, however in this period of mourning that comes after all the fun and excitement of Christmas and New Year i'm actually feeling rather relaxed, cosy and optimistic about the future. Souly's sister has totally gotten me into the Hygge trend, I mean come on, it's all candles, snuggles and cosiness, what's not to love? And to be honest I tend to feel a bit glum in winter, I take my vitamin D supplements religiously but I can still feel a bit gloomy and Hygge is totally changing my mind on winter. It's not all dark, cold days, rain and huge heating bills, it's actually all about fluffy socks, candles, log fires and hot chocolates! Winter is actually sounding good now right?
We are too hard on Winter, it's not so bad!
This year I spent Christmas eve with Mummy and Christmas day with the in-laws. I love my in-laws, they are loud, fun, caring and the best hosts! Souly's mum hand crafted a masterpiece of a roast dinner with turkey and the most amazing beef i've EVER had fresh from the butchers, she even did parsnips, my favourite veggie!
We all spoiled each other terribly this year and everyone had piles of presents, sometimes I get more excited to see the family open their gifts than I am to open my own. Souly always gets me the BEST presents, if they're not what I asked for then they're always the best surprise! He got me a Dalí print:
It is positively HUGE! I've put it above our sofa in the sitting room and it looks wonderful!! I insisted that Souly wrap it up for me, much to his dismay. The piece is called 'Swans reflecting elephants' (1937) and I love that this print has his signature on the mount!
The quality is actually AMAZING but my phone camera is rubbish. I've actually been moaning about how bad my phone camera is since I got the darn thing so Souly bought me a super sleek Sony camera for Christmas!! Yaay! So now the pictures I post on my blog will be really nice!
He also got for me this rare edition of Pater's classic:
This was super special to me because it was a total surprise! I always ask for books but Souly knows how utterly fussy I am with my vintage books and also how difficult they are to track down but this year he actually got me a book that has been on my reading list for a long time and it looks SO amazing on my bookcase!  I can't remember the exact publication date off of the top of my head but I think it's around 1860 and the pages have those lovely raw cut edges! Oh yeah, and it smells awful…. that's how you know it's special! I'm seriously stoked on this gift!
Oh I almost forgot to tell you…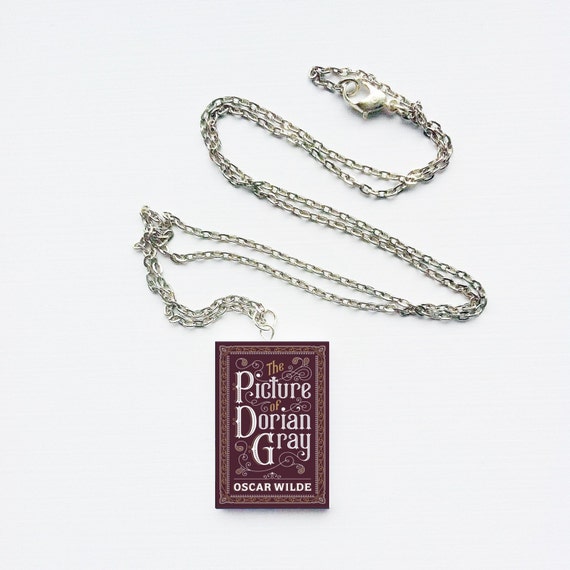 Aah! Isn't is amazing?! It is SO well made there is a blurb and the usual writing on the spine, just like a little book! It literally looks as if someone shrank a book!! I adore this with all of my heart and i've been wearing it since Christmas. I had to charge my new camera so I haven't taken pictures of anything yet! :')
In the spirit of my attempts to become a minimalist I wanted to avoid requesting too many material gifts, especially as Souly and I have a tendency to go a bit mad at Christmas, as we all do I suppose.
Growing up, Christmas was always a day of lavish extravagance and an obscene number of gifts that I obviously adored. Although I do have two brothers they are 20 years my senior so I grew up not unlike an only child which meant I was spoilt rotten every year! This notion of Christmas as a day of wild expense and gift giving has carried through to my adult years and now I just go crazy every December. I show my love through gifts! I put a huge amount of thought into what i'm going to buy for someone and then I buy the best I can possibly afford.
We had originally planned to spend Christmas in down here in Dorset however Nanna-in-law wasn't feeling up to the journey so we all travelled up to the Midlands for Christmas. It had been snowing the week before but it didn't last til Christmas </3 , Dorset didn't even see any snow, just a bunch of rain!
I actually like car journeys a lot, mostly because i'm always the passenger! Hopefully that will change in a few weeks when I have my driving test!! Eek! 😀 But for now, I loooove long journeys, I always feel like it's proper chit chat time for Souly and I. We have been together for over four years and we have lived together on and off for a few years so we don"t have as much quality "us" time as we could. I like to read a lot and write and Souly loves to game so when we actually sit down for four hours together it's like reconnecting time. I also love that you can listen to an entire album in a journey, especially if you are both super into a specific album at the same time! Lately we have been addicted to Waterparks – Double Dare, Sleeping With Sirens – Gossip and Maren Morris – Hero. That reminds me I STILL haven't shown you the pictures from the concert… I will. I promise! Souly's car has the BEST sound system, seriously every car journey needs good music! Especially if you sing as badly as we do….
The journey back was hilarious, horrendous and a little scary. The country roads were pretty flooded because it had been raining all day, plus it was dark because we stopped off in Bristol to go shopping… so we were stuck on all these winding roads, in the pouring rain and pitch black! It was not fun. We got stuck for about ten minutes in front of a HUGE puddle because the 4×4 in front us was hired and the guy driving was taking no chances. It was pretty surreal, I opened my window and it literally looked as if we were sat in the middle of a river, there was all this water gushing past and I totally felt like a sitting duck, haha!
Souly and I always say how big cars are a nuisance on country roads however if this is a regular thing, which being in England i'm guessing it is, I can see why people here would opt for a big car! We only braved the puddle when a dinky Corsa sped past us from the opposite side however i'm certain we could have been swept into a bush quite easily! Souly was very upset that he'd gotten his car washed only a couple of days prior and now it was completely covered in wet mud! Haha :')
I read somewhere that apparently it is inherently British to talk about ones journey and the weather. Haha! In that case I can only apologise to my international friends that i've rambled on about my journey and the weather on the journey for a while. :') My bad…
All in all Christmas was pretty awesome! We had a record number of cards this year which was lovely, I always feel SO loved when I receive cards and i'm always greatly appreciative… especially since I put so much effort into choosing and writing ours. You know what I love? When people say 'Love from Me, Him, Them and The Dog'! I love how our favourite furry friends are always included in Christmas cards, it's adorable! We got Souly's family dog two gifts this year, a ball on a rope and a tasty bone, but we wrapped them a week in advance so every time he came over he would sit next to the Christmas tree and cry, haha! I tried hiding it in the kitchen, but then he sat in there and echoed his cries throughout the house. :')
Someone else who got double helpings of gifts was Souly who's birthday falls on the 31st, literally the most inconvenient birth date ever! It's always a bit awkward being so close to Christmas because I have to buy extra presents in order to split them over the two occasions. It's also difficult to plan things because every event is ticketed on NYE. I'm excited though, I made Souly a super cute card this year with a chibi style, adorable, fat koala on it!
I used to make every card because i'm a cheapskate but the last few occasions I have just gone to Paperchase, I looooove Paperchase they have the cutest cards! Anyway this time I made the effort and he loved it, which I was stoked about! Our impending trip to Paris was meant to be his birthday gift but as I said before I just can't help but go crazy at Christmas so he ended up with birthday presents too…. :')
I've just upped my insta-ante…. did I just create a new word? #instaante ? Is it good? No? Okay, i'll stop…
I've been posting on my Instagram so go ahead and check that out… I'm @lulitaburrita  ❤
Lulu x